Statistics
We have
222
registered users
The newest registered user is
raheelmemon
Our users have posted a total of
1140
messages in
613
subjects
If you are seeing this, you have attempted to link to the UpToDate widget but are experiencing a problem. Please visit
UpToDate
for more information.


1.Drug of first choice in Bipolar Disorder- Lithium Carbonate.

When to start it- simultaneously with anti-psychotic drugs like Haloperidol.

When to monitor drug levels in blood- Initially frequently (this I don't know how frequently), and when pt. goes to home, then every 3 months.

30% people may not respond to LiCa- Use Carbamazepine or Valproic acid.
We do need to monitor drug with these too.

2.Drug of first choice in Schizophrenia- Risperidone, Quetiapine, Olanzapine

Clozapine has fewer side effects too but has 5% risk of seizures -->so not first choice. Also causes Agranulocytosis.

3. Drug of choice in MDD- SSRIs.

Side effects of SSRIs- insominia,or hypersomnlolence, decreased libido, inability to achieve orgasm, dry mouth, and GI distress.

If pt. has side effects, give Bupropion as it has less side effects.

Antidepressants causing orthostatic hypotension- TCAs and MAOIs.

4. Drug of choice in Cyclothymic Disorder- Lithium Carbonate.

5. Drug of choice in Dysthymic Disorder- SSRIs.

6. Principles of treating MDD with anti-depressants-
Start with lowest effective dose.
See effects for 4-6 weeks before increasing the dose or changing the drug.
Also add exercise and psychotherapy in treatment protocol.
Discontinue the drug only if the pt. has been asymptomatic for atleast 6 months.
There is no need to reduce the dose during maintanace therapy if the pt. is tolerating it well.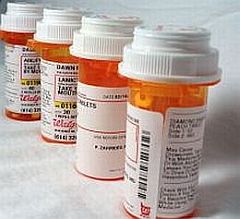 *****************

Click on
to post your comments


Similar topics
---
Permissions in this forum:
You
cannot
reply to topics in this forum